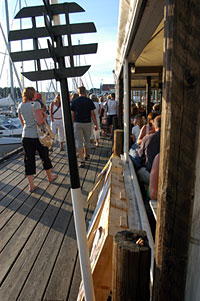 Grebbestad's main artery is the harbour and the 200-metre long pier, 'Bryggan', which is the perfect place for one of the best-loved free pleasures of the west coast — enjoyeble walks along the sea to watch and be watched. Large parts of the old picturesque buildings still remain, and offer wonderful walks through the winding narrow roads above the harbour. From here you also have the best possible view over rocks, islets, and the protected orchid meadows of Otterön. But this is not all.
Half of all the lobsters caught in Sweden are landed in Grebbestad as well as an even larger share of the cage-caught crayfish, and practically all the country's oysters. Together with prawns and crabs, this provides the foundation for Grebbestad's reputation as the "Shellfish Metropolis".
The Grebbestad Carnival , Carnival was introduced in 1922 and is held on the second Saturday in July every year. It is now the oldest, biggest and happiest carnival procession on the Swedish west coast.

The rest of the municipality of Tanum, offers an extremely varied landscape, with coastal areas and mountains, roaring oceans and calm forest lakes, deep fjords and soft sandy beaches. From a history point of view, this is also a rich area.
The best known pre-historic remains are the rock carvings at Vitlycke, declared a world heritage site by UNESCO.
Culture is still alive today, through all the now active artists in the area. Easter is the time for the annual event "Kvirr""-Art Walks in Ranrike, when you can visit artists at home in their workshops.
Welcome to Grebbestad in the autumn, winter and spring as well! There are things to do all year round. You can paddle a kayak "Kajakcenter", go on a fishing trip, play golf, dive, enrol on a course at the local college, and much more.